Mercedes-Benz says the new CLA will be the most aerodynamic of all production cars.  With it's 0.22 drag coefficient, the Mercedes-Benz claims the CLA sets the new aerodynamic benchmark among all series production cars, beating electric cars such as the Chevy Volt.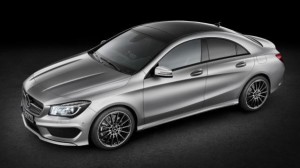 While pricing has not been announced, the CLA which is designed to resemble a downsized version of the CLS, is rumored to start below the current C-Class Sedan.
The CLA-Class is aimed at winning over young Gen Y buyers, who comprise 75 million people in the U.S. and now are reaching car-buying age, but are not aspiring to buy a Mercedes.
The CLA is powered by a turbocharged 211-hp 4-cyl gasoline engine equipped with a start/stop eco system and coupled with a 7-speed automatic dual-clutch transmission.  It will also be the first front wheel drive Mercedes-Benz.